The three types of Mercedes-Benz vans explained.
January 21 2019, Mercedes-Benz Gatineau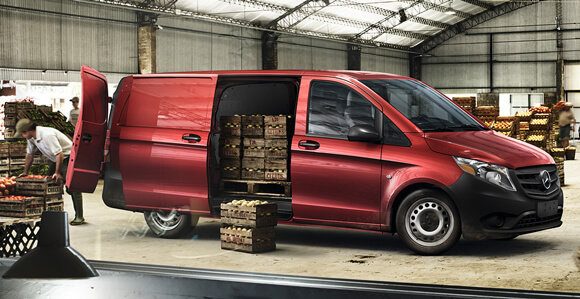 When we are looking for a commercial van, we have several options, starting with the Mercedes-Benz van range. Offering two distinct models to meet a variety of needs, Mercedes-Benz vans also offer numerous configurations and customization options.
All this is made possible thanks to the three versions offered in the Mercedes-Benz Sprinter range, and the two versions available in the Metris family. While the Sprinter will be able to meet the most demanding transportation needs and ensure top performance regardless of road conditions with the Sprinter 4x4 model, the Metris is much more fuel-efficient while being more affordable.
Let's take a look at the different configurations of the Mercedes-Benz Sprinter and Mercedes-Benz Metris.
Cargo
There are eight Sprinter models and two Metris models in the Cargo version. These were created to carry merchandise and offer a host of customization options in the cargo area. With the Metris, it's possible to opt for a 126-inch wheelbase out of the gate, or a 135-inch wheelbase as an option.
When you opt for the Sprinter, you get two height levels for the load compartment, two wheelbases and three body lengths. In its most spacious and versatile version, the cargo area reaches almost 2 meters in height while the length of the body is nearly 5 meters. The 144-inch wheelbase is standard while a 170-inch wheelbase is optional.
Combi
The Combi versions are designed for passenger transport. In the Mercedes-Benz Metris, the Combi can accommodate up to 8 passengers while in the Sprinter it's possible to carry 12 passengers.
Chassis Cab
The Mercedes-Benz Sprinter Cab Chassis offers a host of configuration possibilities with their aluminum chassis and unobstructed chassis frame rails.
Come and meet us today at Mercedes-Benz Gatineau. We will be able to help you find the right Sprinter or Metris model for your needs.